Homestay in Southeast Asia
Southeast Asia comprises Brunei, Cambodia, East Timor, Indonesia, Laos, Malaysia, Myanmar, The Philippines, Singapore, Thailand and Vietnam. With the exception of East Timor, they are all members of ASEAN, the Association of Southeast Asian Nations. A region of many similarities as well as distinct differences, Southeast Asia undoubtedly offers some of the most exciting travel destinations. A wide range of activities and unique sights can all be had in this part of Asia.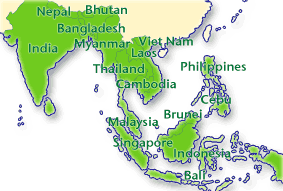 Top Cities in Southeast Asia
We are looking for Partner Homestay Agencies. (Read more)
Are you a Host family?
Are you interested in becoming a Homestay host? Become a host and make your profile page. Become a Host
---
Are you a Guest?
Become a guest and post your request. Our host families will contact you. Become a Guest
Country Home Page

Homestay Australia

Homestay Canada

Homestay New Zealand

Homestay Japan

Homestay UK

Homestay USA

Homestay Europe

Homestay Nordic

Homestay Northeast Asia

Homestay Southeast Asia

Homestay South America

Homestay Middle East

Homestay Africa
Sponsored link